A guidebook that explains the fermentation culture in Hokuriku is on sale. Fermented local foods provide hints for enjoying our daily life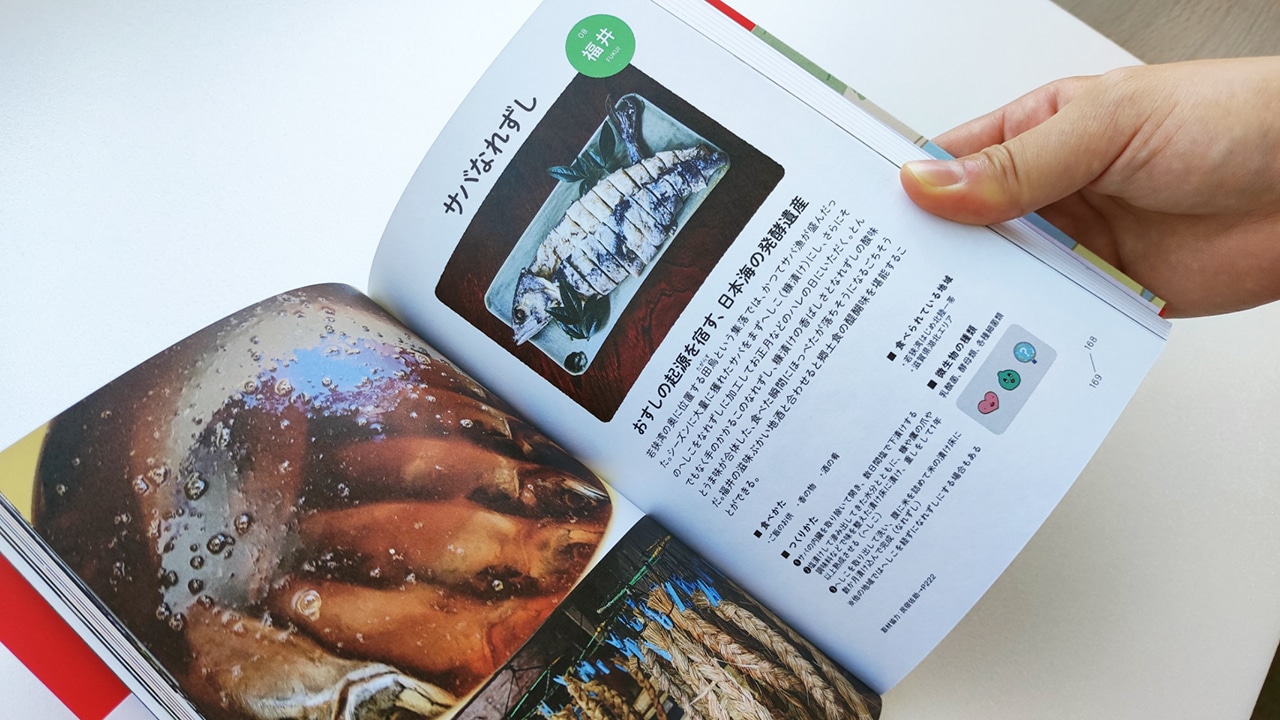 The official guidebook "Fermentation Tourism Hokuriku" (fu Production) for the same name exhibition at the Museum of Kanazu Forest of Creation in Awara City, Fukui, is now on sale.
The author is Hiraku Ogura, a fermentation designer. He served as the curator of the exhibition above, focusing on traditional fermented foods in Fukui, Ishikawa, and Toyama prefectures. With easy-to-understand texts and photographs, he describes the fermentation culture of Hokuriku in the book.
The commentaries on sushi, religious dishes, shipping vessels transferring fermentation foods, and Japanese sake are well worth reading, and they present us with a fresh perspective on our everyday life.
The exhibition period of the Fermentation Tourism Hokuriku is from September 17th to December 4th, 2022. You can purchase the book at the Museum of Kanazu Forest of Creation and satellite venues (check the official website for details) during the days. Bookstores in Fukui Prefecture and a few places in Ishikawa and Toyama (Yamagen Jozo Co., Ltd., D&DEPARTMENT TOYAMA, Hohoho-za in Kanazawa, and TSUTAYA BOOKSTORE AEON MALL Hakusan) sell the book.
You can also get the book online at the Fupro Shoten, the official online bookstore of the publisher, fu Production.
Related article: If you say you're not interested in fermentation, you might miss out on the charm of Hokuriku.
(Comments from the editorial office: Living in a rural area, you can enjoy the ultimate luxury of having fresh seasonal ingredients on your table, but the fermentation culture goes above and beyond. Fermented fresh foods are delicious. Besides, Hokuriku has a rich fermentation culture. Since I live in a fishing town, I like to delve deeper into it. Akashi, producer
Mr. Ogura has a strange title, fermentation designer, but he mainly does fieldwork and spreads the fermentation culture with local craftspeople. That's why what he says carries persuasive weight. Discover the fun and depth of fermentation with the guidebook. This marvelous book is one of the fruits of his fieldwork in Hokuriku. Takei, development director
The other day, I made anchovies with sardines from Himi, Toyama Prefecture. The flavor changed surprisingly depending on the temperature, humidity, fermentation hours, and amount of salt. I like to know more about our local fermented foods with this book. Otsubo, editor)
Story and translation: Masayoshi Sakamoto
Photograph: fu Production