To commemorate 30th anniversary of HACHI-BAN in Thailand, the most popular Tom Yum Kung Ramen noodle is on sale. Enjoy with lime and coriander leaves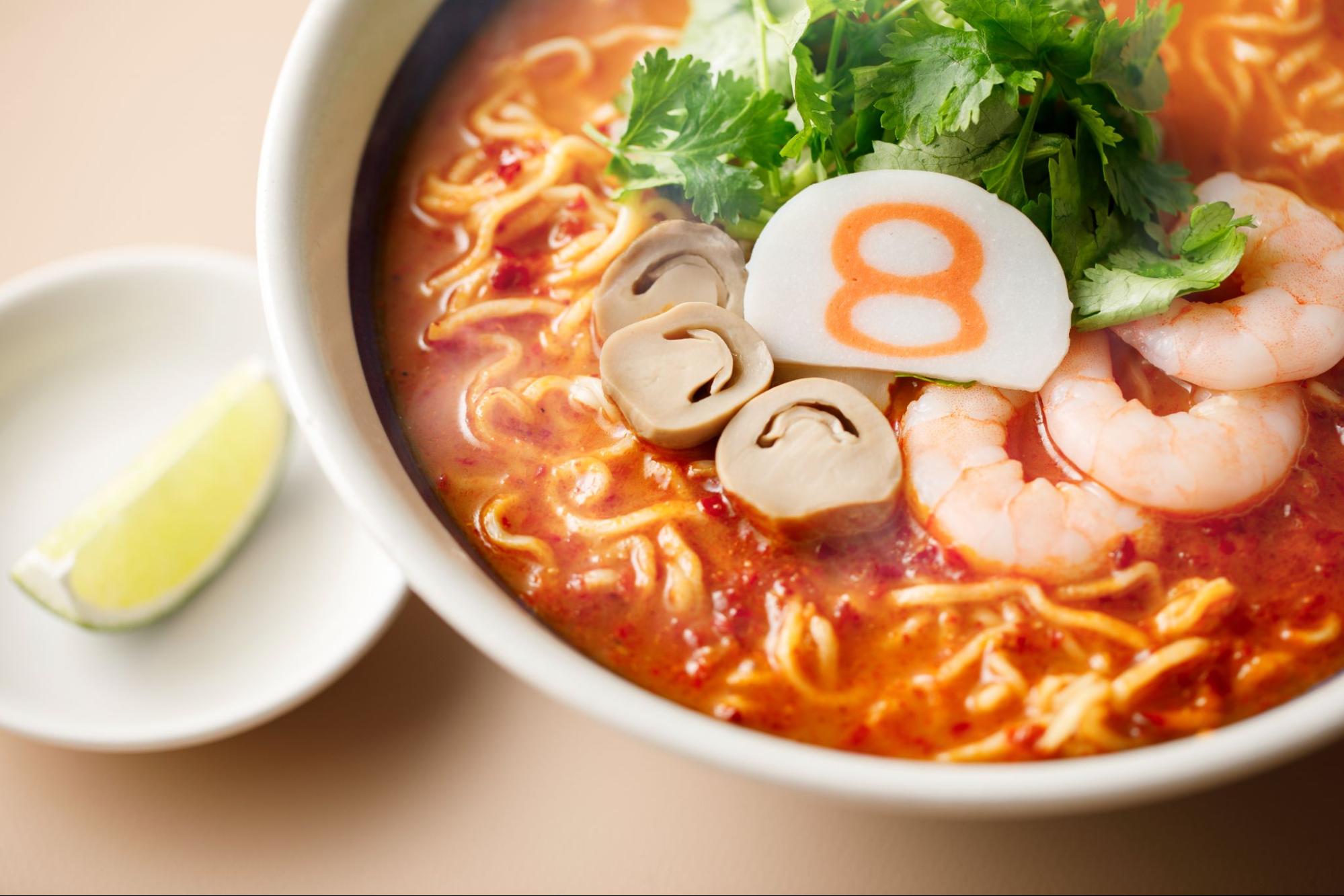 HACHI-BAN CO., LTD. (Ishikawa Prefecture), which develops Hokuriku's familiar noodle, will start on July 11th (Monday) in 2022 for limited months. Tom Yum Kung Ramen noodle is now on sale.
Hachiban Ramen will celebrate the 30th anniversary of its opening in Thailand this year and has opened 146 noodle restaurants throughout the country. The most popular menu in Thailand, Tom Yum Kung Ramen noodle, has just been on sale in Japan.
The prominent flavor of the noodle is Thai soup with stewed shrimp and herbs, which tastes spiciness and acidic flavor, and has a unique aroma of coriander leaf. The ingredients come from local Thai markets.
As an original arrangement for the Japanese, domestic coriander leaves and a slice of lime go with the noodle.
For those who want to enjoy the Asian taste more, extra toppings of lime (54 yen including tax) and coriander leaves (156 yen including tax) are in the restaurants.
Tom Yum Kung Ramen noodle is 850 yen (935 yen including tax). You can also bring it home. Enjoy the authentic Thai taste at stores or home.
By the way, Tom Yum Kung means simmered and mixed shrimp.
Relate: HACHIBAN-RAMEN gets a noun for ramen noodle in Thailand due to its enormous success
(Comments from the editorial department of Hokuroku: I have an irresistible urge to say "Thank you for your cooperation with our content making" to staff members working at the Hachiban Ramen restaurants where I went out for a meal. The expectations for Tom Yum Kung Ramen noodle are extraordinary because the company has developed and gained fans there. Akashi, Producer
A few days after the news was released, I got a DM from a friend in Tokyo saying, "I want to eat Tom Yum Kung Ramen noodle!!". I wanted to inform my acquaintance working for HACHI-BAN CO., LTD of it. At the same time, I felt proud of the company because it resides in our Hokuriku region. Of course, I will go to eat too! Takei, Development Director
I ate Tom Yum Kung Ramen the other day. Spiciness and acidic flavor realized a perfect balance for those who like ethnicity and those favoring Hachiban Ramen. And lime could be a breath fresher for the noodle. The citrus would add refreshingness in the summer. I like Tom Yum Kung, but it's not a casual meal in Japan. I was lucky to live in the Hokuriku region because the noodle restaurants of Hachiban Ramen are everywhere. Otsubo, Editor)
Text: Nao Shimizu
Translation: Masayoshi Sakamoto
Edit: Masayoshi Sakamoto and Fumiya Otsubo
Photo: HACHI-BAN CO., LTD.