Enchoji Temple in Kanazawa becomes a stage. Spooky stories will feel chills run down your spine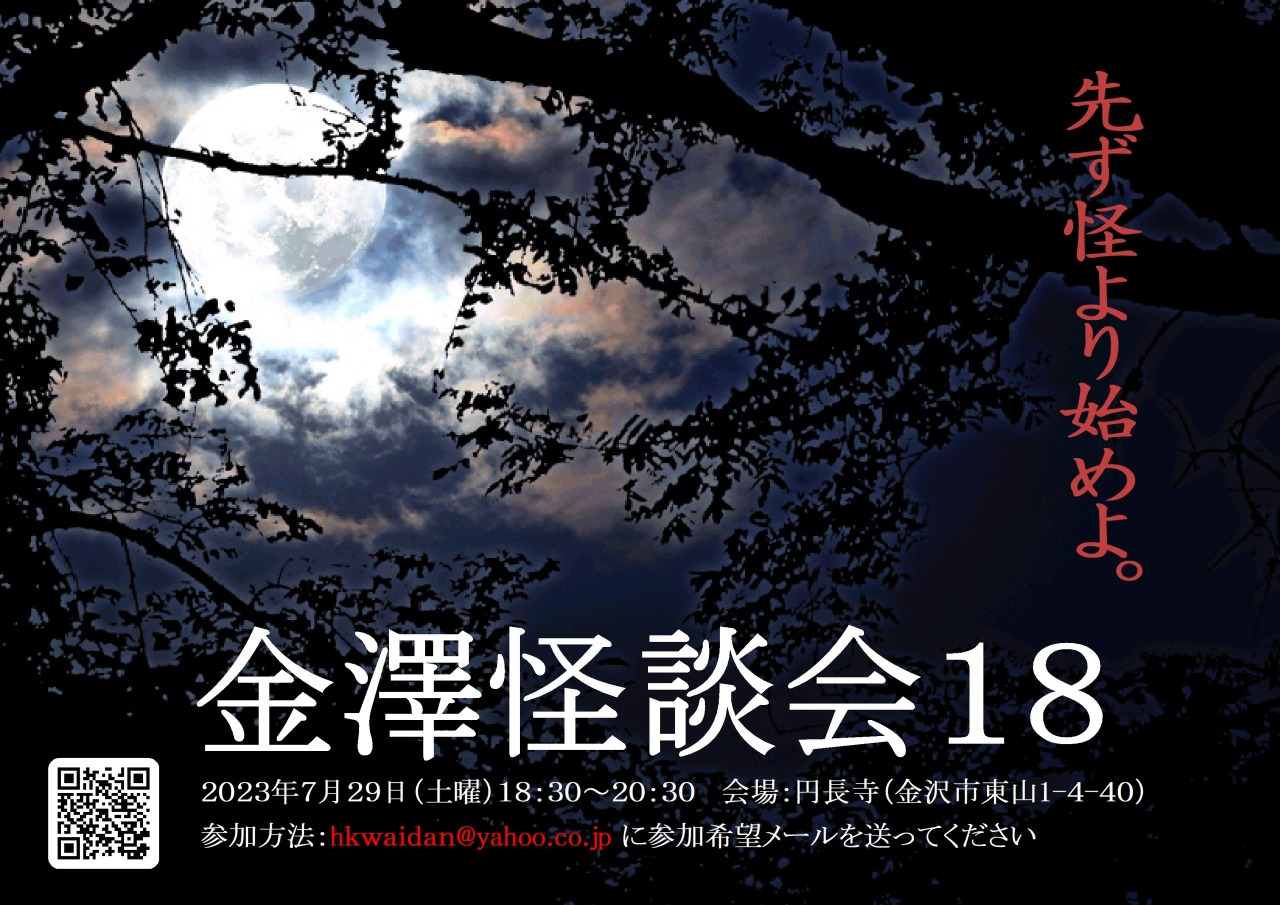 On the night of Saturday, July 29, 2023, a spooky storytelling event is to open at Enchoji Temple at the entrance of Higashi Chaya District in Kanazawa City. Hokuriku Kaidan-kai hosts (Representative is Juzo Isaka).
The Hokuriku Kaidan-kai is a group of locals who love ghost stories, established in March 2008. The end of July or the beginning of August every year has been the session in the past. In 2023, the 18th event is to open.
No fee needs, but prior booking is essential. Fifteen guests are at most. The participants interested in storytelling can deliver 3 to 10-minute stories about ghosts or strange phenomena. After giving a ghost story, the teller will receive questions from the audience.
This year, the venue is to remove acrylic panels and the obligation to wear masks. You can also be free from disturbances to enjoy spine-tinglingly creepy tales.
Relate: A ghost story passed down in Hokuriku. Kanazawa's Child-caring Ghost
(Comments from the editorial office: Was the old custom of telling ghost stories in the summer a way to enjoy the feeling of chilling? Or do more people tend to have spiritual experiences in the summer? It might be wisdom with men and women sticking together: Akashi, the producer
As a child on summer vacation, I often watched TV programs such as "Strange Stories" and Junji Inagawa's TV shows. However, I haven't heard spooky stories for years; besides, I haven't enjoyed any seasonal traditions and events, such as Bon festival dances, fireworks displays, and swimming pools. I should pause in my tasks to listen to the ghost stories this summer: Takei, the web developing director)
(Comment from a guest: Magic and horror are similar. Once you make a mistake in your procedure, you will all fail. The audience receives no answer. No one can know and answer what happened. You can skip or pause the streaming of video content; however, you never be able to escape from what happens in front of your eyes or the swing of the ghost stories. Magic and horror are the very live performances. The hottest and coolest live venue of this summer appears at Enchoji Temple. It must deliver a sleepless night to you: Rui Yamagishi, a magician who loves novels)
Relate: The Producer of Hokuriku Idol Club and Japan's No. 1 Magician Think about Self-Producing Theory
Translation and story: Masayoshi Sakamoto
Photo: Hokuriku Kaidan-kai