An overnight workshop discussing the bright future of game dishes starts in Hakusan City. It's a chance to learn from experts and hunters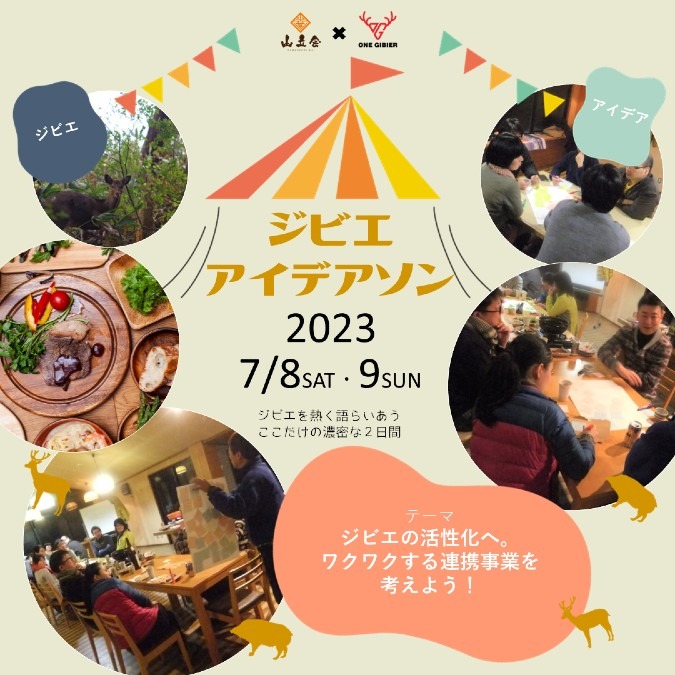 From July 8th (Sat) to 9th (Sun), 2023, a game meat workshop, Gibier Ideathon, starts at Nakayama Ryokan Inn in Hakusan City, Ishikawa Prefecture.
In this overnight event, you can discuss the future of game meat by building relationships with experts involved in game dishes in Japan. It may enable to increase the general public interest.
The program includes a keynote lecture by an official from the Wildlife and Rural Environment Division of the Ministry of Agriculture, Forestry and Fisheries, participants' idea presentations about wild meat, group discussions, a tour of sheep farms, and action declarations.
ONE GIBIER (Representative: Isao Arimoto of Yamadachikai) hosts the event. The venue is Yoshinodani Community Center and Nakayama Ryokan Inn, where participants can enjoy game dishes during their stay.
The participation fee is 18,000 yen. It includes accommodation fees (you might share a room with other participants), food and drink, and various training expenses. Participants must afford their traffic expenses. There seems to be a discounted rate for families participating.
(Comments from editorial members: The restaurant that immediately comes to mind when talking about game dishes is Juraku Sou in Yatsuo, Toyama City. The restaurant exists in the mountains, but many customers flock. The tastes are stunning. Akashi, producer
A friend in Toyama is a hunter, so I eat game meat often. He always tells me about problems in the business of game dishes. I hope this ideathon will make ordinary people come to eat game dishes more casually. Takei, developing director)
(A comment from a guest: Game dishes are delicious! You can taste the meat and fat of wild animals raised by eating natural nuts and wild grasses and running around the fields and mountains. Trying to taste game dishes is crucial in the beginning. You might begin to know how the meat comes from; and where the wild animals live. You might then notice the environmental and ecological problems in the mountains. You might finally come to like the mountainous area where the wild animals live. When serving game dishes to my restaurant customers, I often present how the meat arrived. You may have already bought vegetables from reliable farmers. You may also come to buy game meat from faithful hunters. If more people want to eat game dishes, conscious hunters will increase. I hope someday such a future comes true. Hironobu Tanaka, the owner-chef of Kitchen Hanamizuki1)
Story and translation: Masayoshi Sakamoto
Poster: ONE GIBIER
A restaurant for one group per day. It offers catering and delivery cuisine that use plenty of seasonal local ingredients. 076-461-4595