Yasuto Inagaki Photo Exhibition and Product Exhibition of Toyama Prefecture start on the 2nd floor of Toyama Citizen Plaza during the Golden Week holidays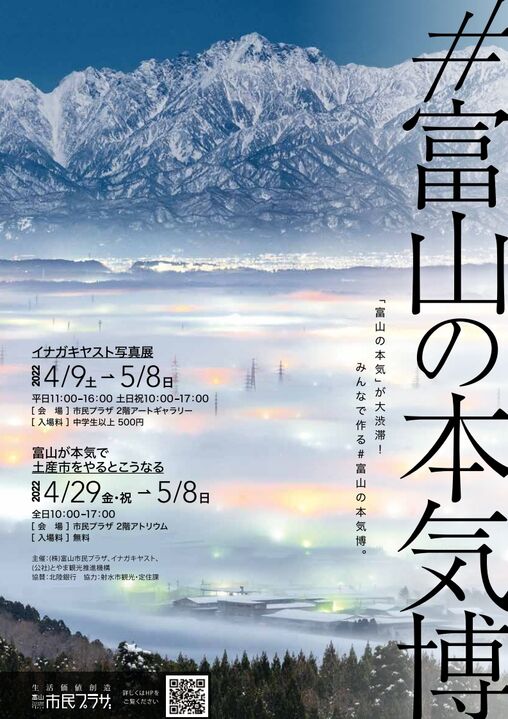 #Toyama Serious Expo will appear during the Golden Week holidays at the 2nd floor of Toyama Citizen Plaza in the center of Toyama City.
The main programs are a photo exhibition by Inagaki Yasuto, a photographer taking landscape photographs of Toyama, and a product exhibition in which local companies and organizations participate.
Toyama Tourism Organization, Toyama Citizen Plaza, and others sponsor it.
Related: Yasuto Inagaki and Ken Oki: How to Make Your Photos Go Viral
The period is from April 29th (Friday) to May 8th (Sunday) in 2022. The entrance fee is 500 yen for the photo exhibition displaying nearly 50 works. The product exhibition selling local products and crafts in Toyama prefecture is free to enter.
We will also participate in a booth at the product exhibition, collect information, and release articles on their recommended products and crafts that exhibitors and visitors think.
Respondents at our interview booth will receive a sticker of Hokuroku's official character, Orimetadashi Cat.
(Comments from our editorial office: Talking of product exhibitions, the ones featuring other places such as overseas may bring to your mind, but I like to invite local people to visit this event. It must enable you to reaffirm the charm of your home place. Takei, Web development director
At our Hokuroku booth, editorial staff members and Toyama University students will ask for your recommended local souvenirs. Feel free to visit our booth. Otsubo, Deputy Editor-in-Chief
I was wondering what we should sell as an online media. If you look at our booth on the day, you must give our idea full credit. I'm to be at our booth on the last day. Akashi, Producer)
Text and translation: Masayoshi Sakamoto
Photo: #Toyama Serious Expo