There is no meaning in making places where you don't want to go on your own.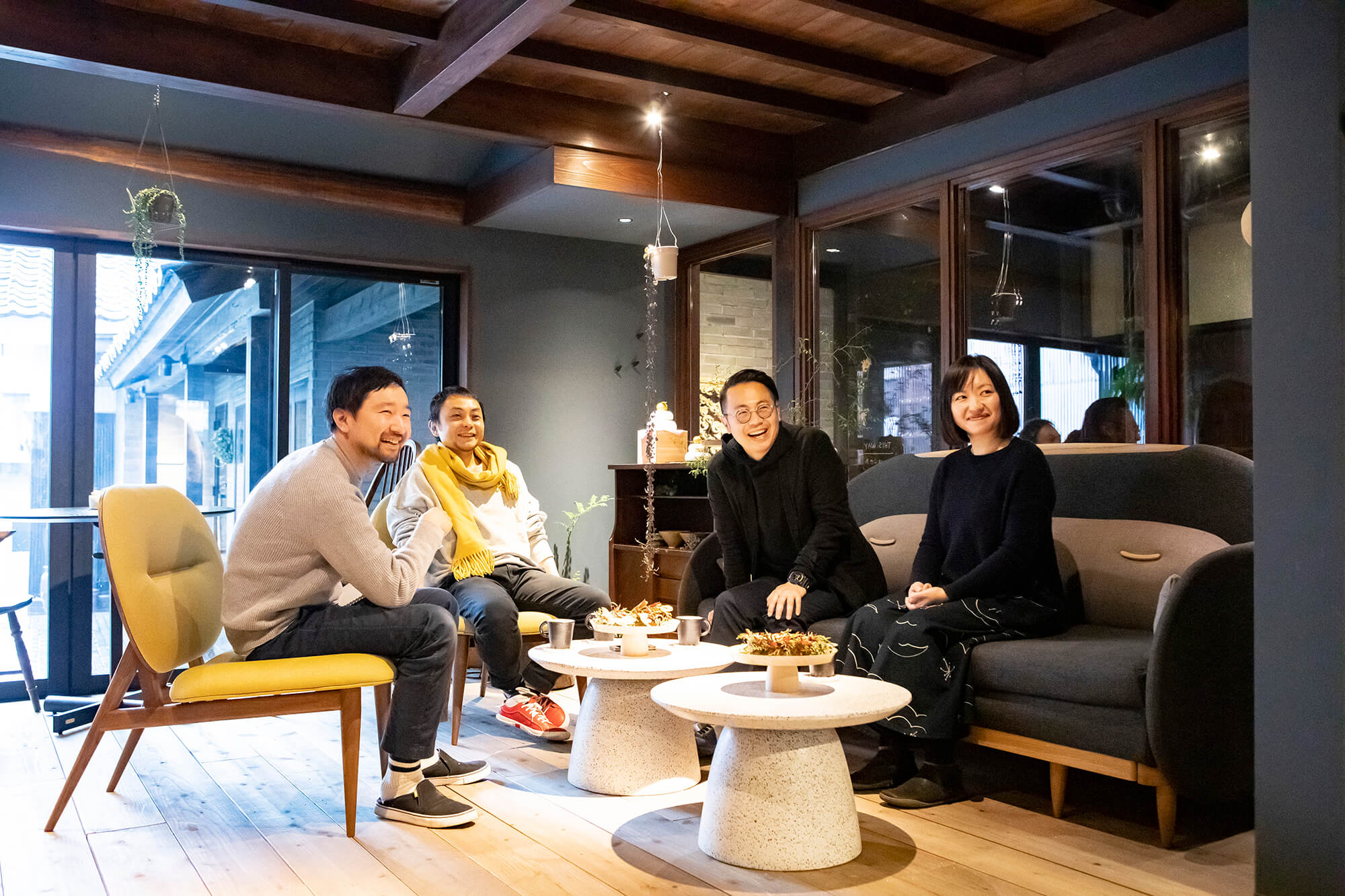 From the left, 1Masashi Nishide, 2Hiroyuki Akashi, 3Tomotsugu Yamakawa and 4Satsuki Yamakawa.
Nishide: Thank you for coming today.
Yamakawa (Satsuki): Are you the moderator today?
Nishide: That's right. It's the first time; so, I'm nervous (laughs). I've found your inns and restaurant in a rustic place5. Why did you decide to open them here?
Yamakawa (Tomotsugu): I worked in China for a while and came back in 2016. At that time, I had the option of opening an architecture firm in Tokyo, but my real interest is in the manual procedures of traditional craft.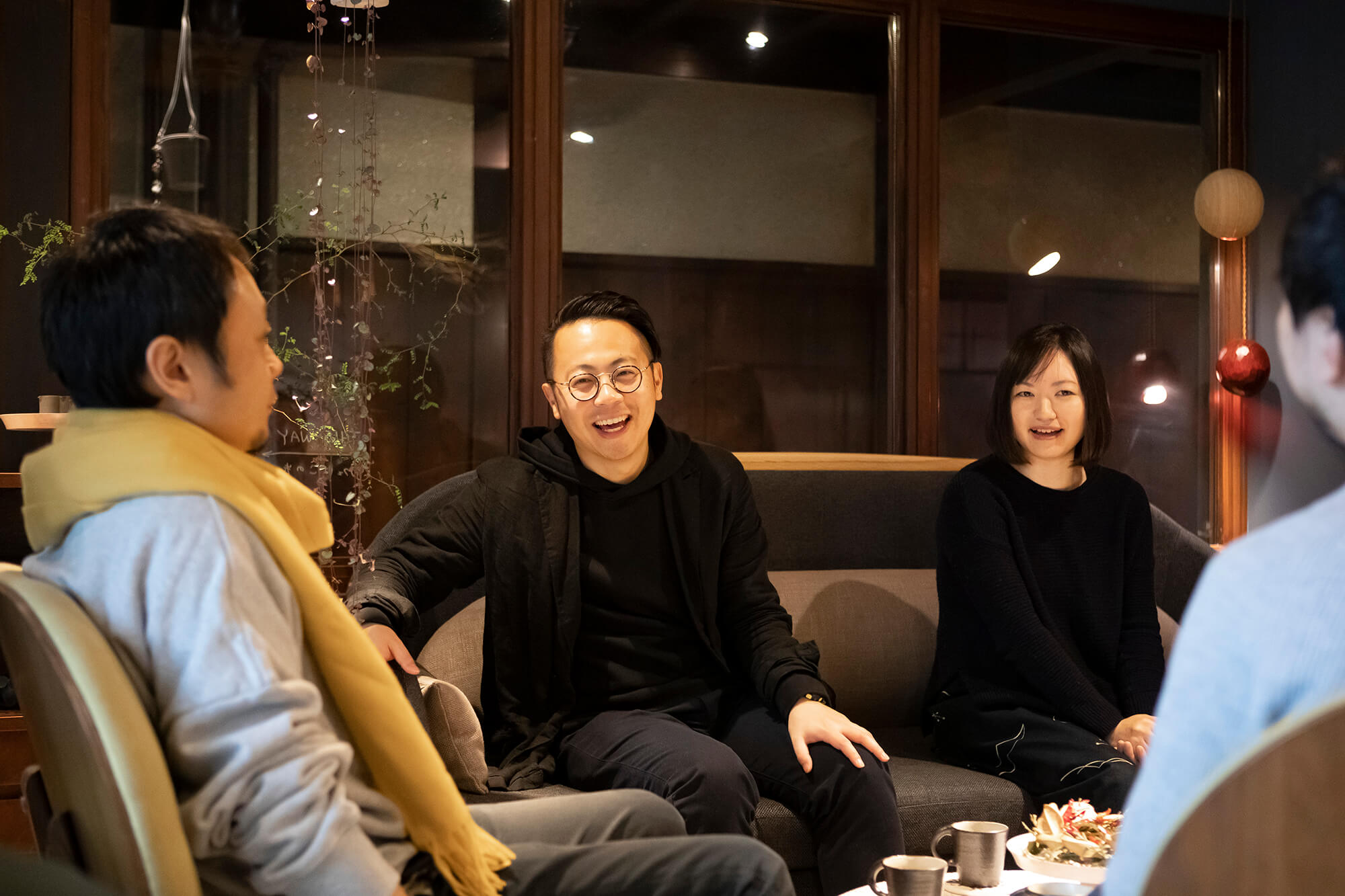 As it happened, my wife and I were attached to the Inami area here and bought a house where we could live with our cat. Once, it was a very big house where the past owner ran a joinery store, so we decided to live on the first floor and have guests stay on the second floor.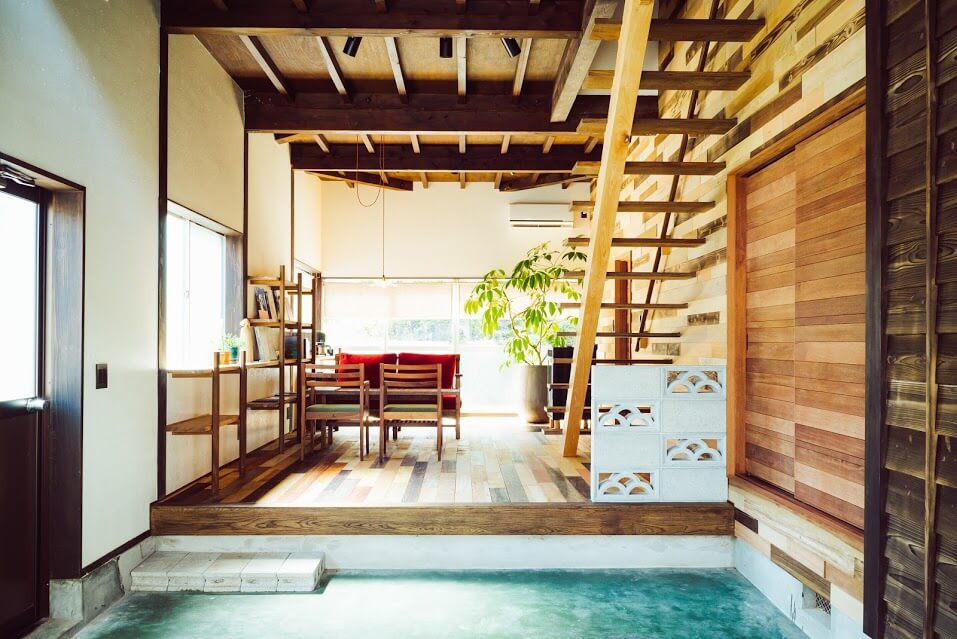 Tategu-Ya. The Yamakawas renovated a joinery store to make the first inn. Koumei Tanaka, a wood sculptor, displays his works. Photo credit: Corare Artisans Japan
Then I considered what kind of towns can be places where guests who stayed once will want to stay again. My answer was a place where they would have the chance to communicate with local residents.
In Inami, where wood carving is popular, 200 wood carvers live among the 8,000 residents. Therefore, the concept of Bed and Craft6 as an inn where guests can be short-term apprentices to local craftspeople was created. Through workshops and such, I would like to prepare interactions between guests and craftspeople, which would make the guests want to meet the craftspeople again or buy their works.
Yamakawa (Satsuki): After the joinery store we bought opened as an inn, a friend in Shanghai who came to stay wanted such a house too. This led to the next step: buying a new property in Inami (laughs).
Nishide: That's a great friend (laughs).
Yamakawa (Tomotsugu): Since that, the friend used it as a vacation home only a few times a year; so, we talked about making it a hotel. That is the second Bed and Craft hotel. As it opened and people gathered, the number of long-stay-international guests gradually increased.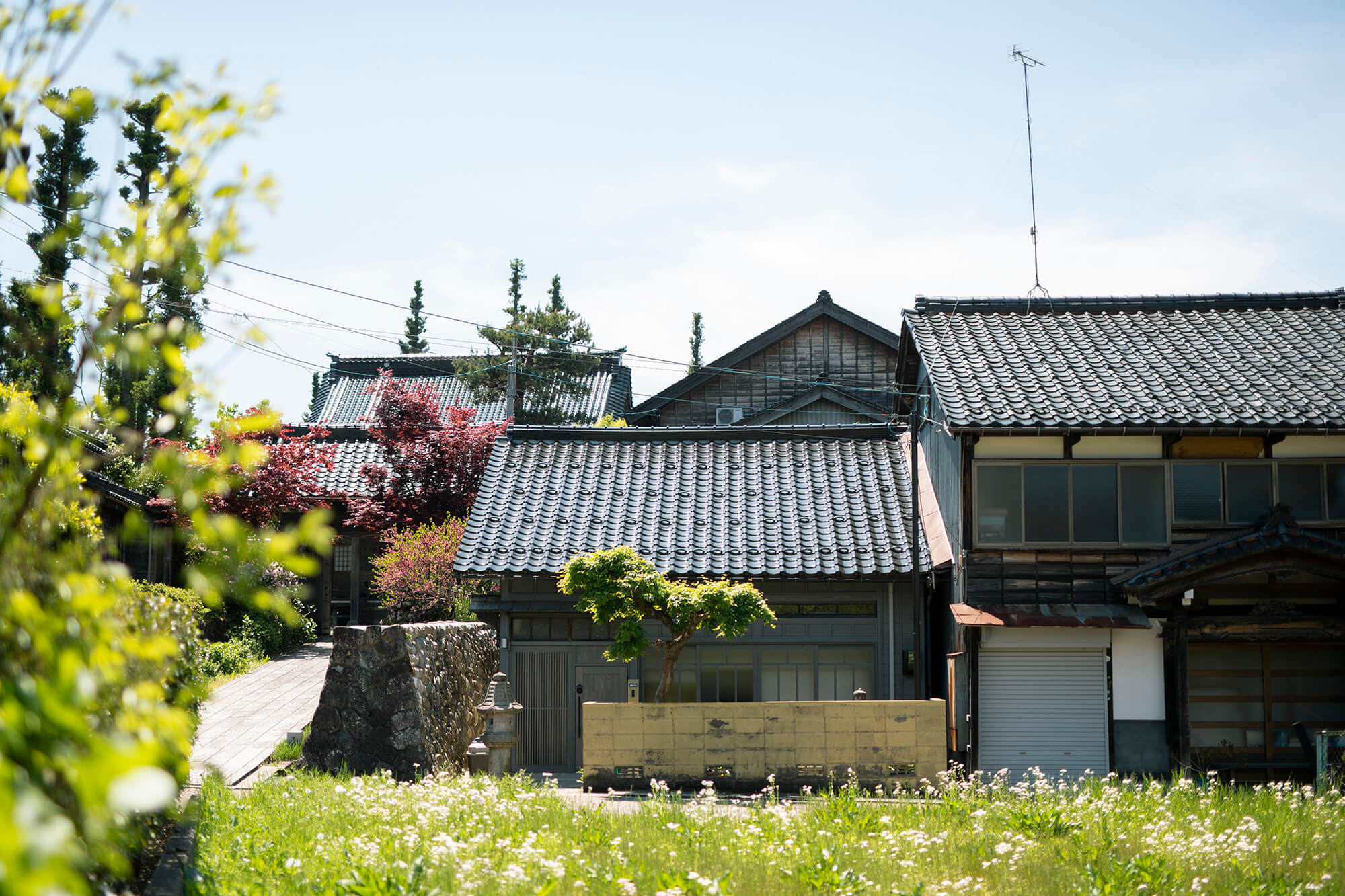 Tae. The Yamakawas renovated an old house of a wealthy merchant to make the second inn. Sanae Tanaka, a lacquer artist, displays her works.
Yamakawa (Tomotsugu): When we opened the inn, guests ate their meals in town. Since there are few places, however, some guests had sushi for three straight days (laughs). This was not good for their health; we urged them to cook their own meals with local vegetables. This led to making a new hotel, Kin-Naka, that offers a full-scale kitchen for guests, thinking of long-stay international travelers.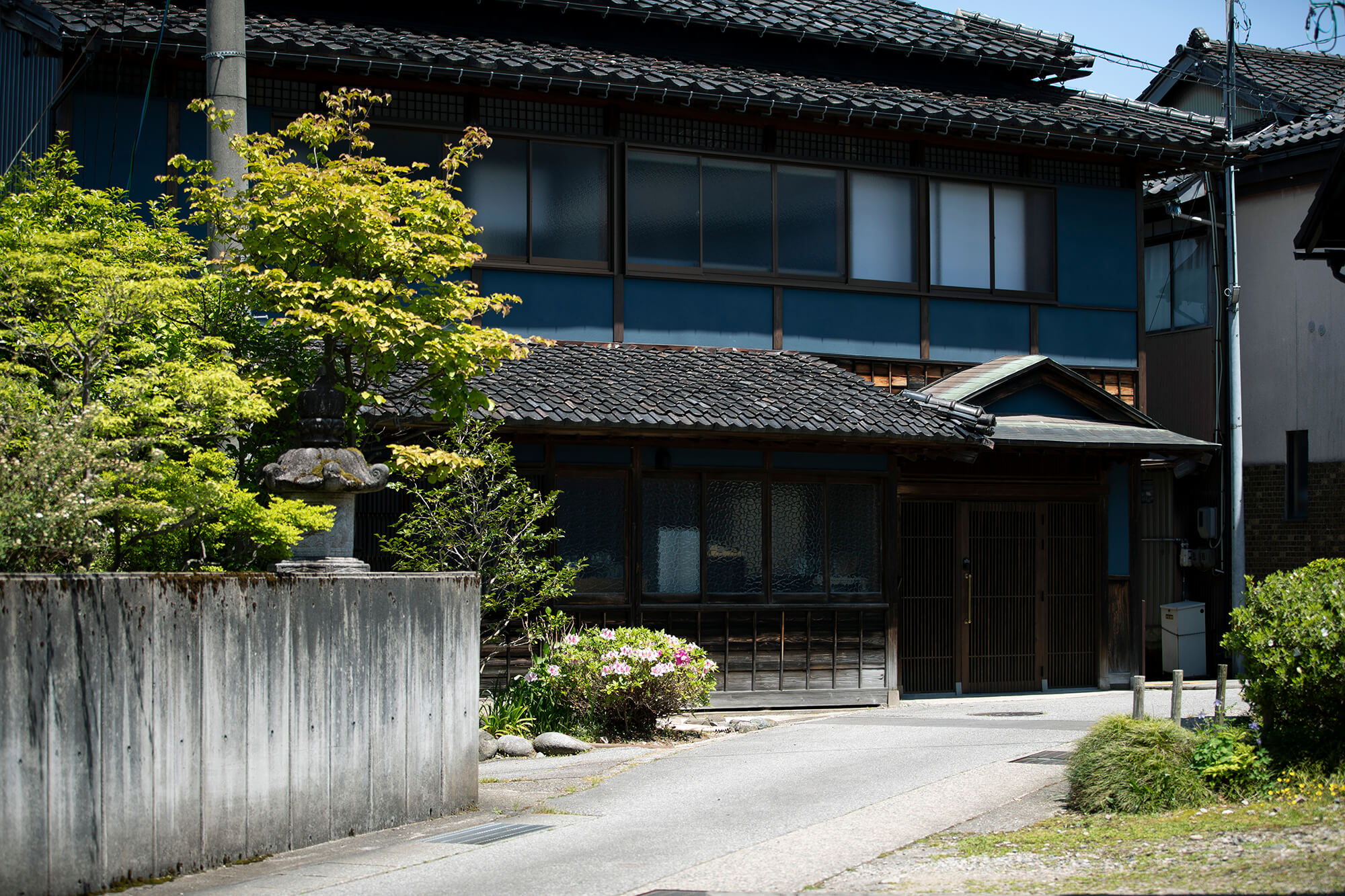 The Yamakawas renovated a restaurant to make an inn. Here has three different accommodation spaces, Kin-Naka, Mitu and Tenne in one building.
Nishide: You made one thing after another that you didn't have or you needed.
Yamakawa (Tomotsugu): I would like to say yes, but it was a little different. We had many opportunities then to be covered in the media with titles focusing on issues like 70% of the guests being from abroad.
As a result, many Japanese guests became interested and came by car. In the beginning, international tourists who came on the one-hour bus ride from Kanazawa were our main guests.
As the number of Japanese customers coming by car increased, some of them check out early in the morning to go to sightseeing spots. We actually wanted guests to enjoy interacting with the craftspeople who live in the Inami area.
We thus created the reception BnC Lounge and cafe bar nomi to provide guests with opportunities to walk around the town; look for the inn where they will be staying; and interact with our staff and local residents.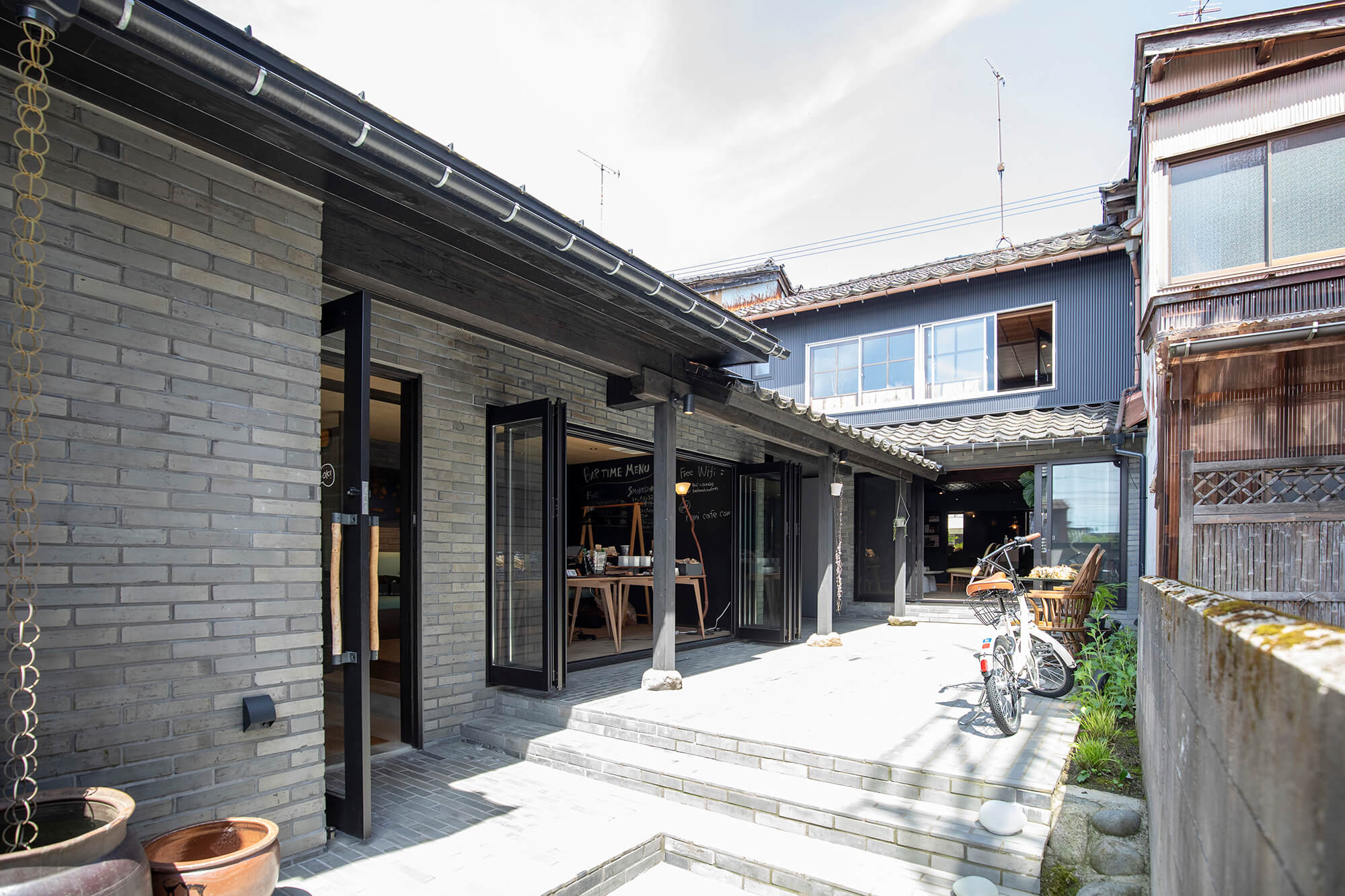 BnC Lounge (back) and Nomi, where the roundtable discussion took place.
Nishide: What do you prioritize when starting a business or setting up a place? Do you decide the location for your service, or decide the service to fit your location?
For example, in franchises such as convenience stores, services are fixed from the beginning. So picking a location is crucial. On the other hand, if an entrepreneur has a place for making a hospitality business, they need to consider many things before deciding the service content, such as the population, number of tourists and any nearby rivals.
Yamakawa (Tomotsugu): As I said, the place is more important for me than anything. We use the resources and charm of the place, providing customers with fascinating architecture and areas. Isn't Mr. Akashi the same for Rokkakudo7?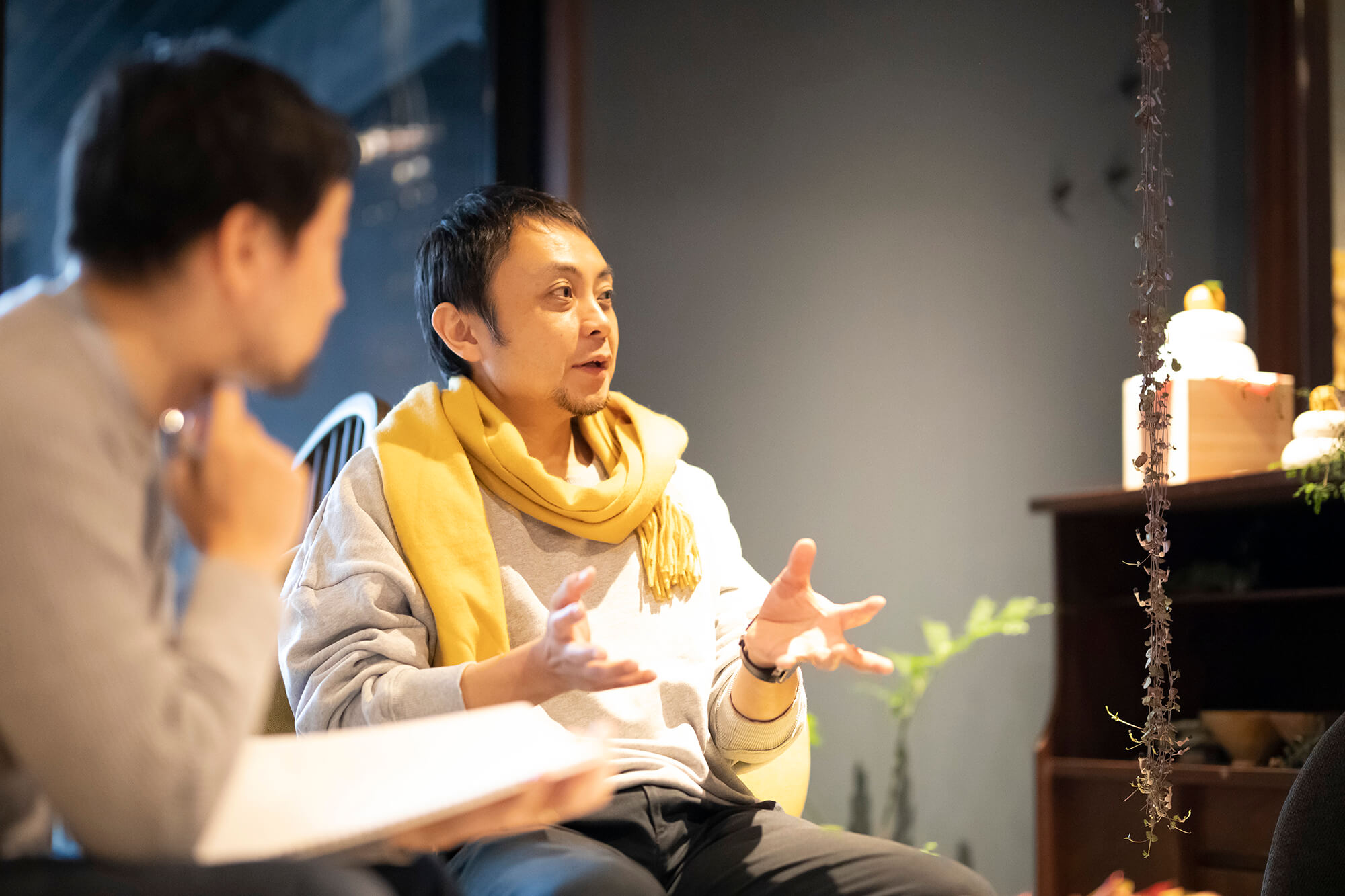 Akashi: The same. The reason I made Rokukakudo was because I wanted a restaurant where I could eat healthy food. So I founded it. I wanted to create a place that I could enjoy by myself, and I would like to see customers and friends enjoy it too. 
Yamakawa (Satsuki): When I listen to people who are trying to set up a new venue, I feel that they are thinking too much about how customers can enjoy their services. Of course, that's important, but as Mr. Akashi said, it's better to make a place where the owner themself can first enjoy it.
Akashi: I don't think it makes sense to create a place such as a cafe where the owner wants to go and be the guest.
Yamakawa (Tomotsugu): I was once consulted by a person who said: "The town has nothing, but can I do something special?" Every town has something. Our job is to add charm to a city or town and deliver this charm to customers while having fun ourselves.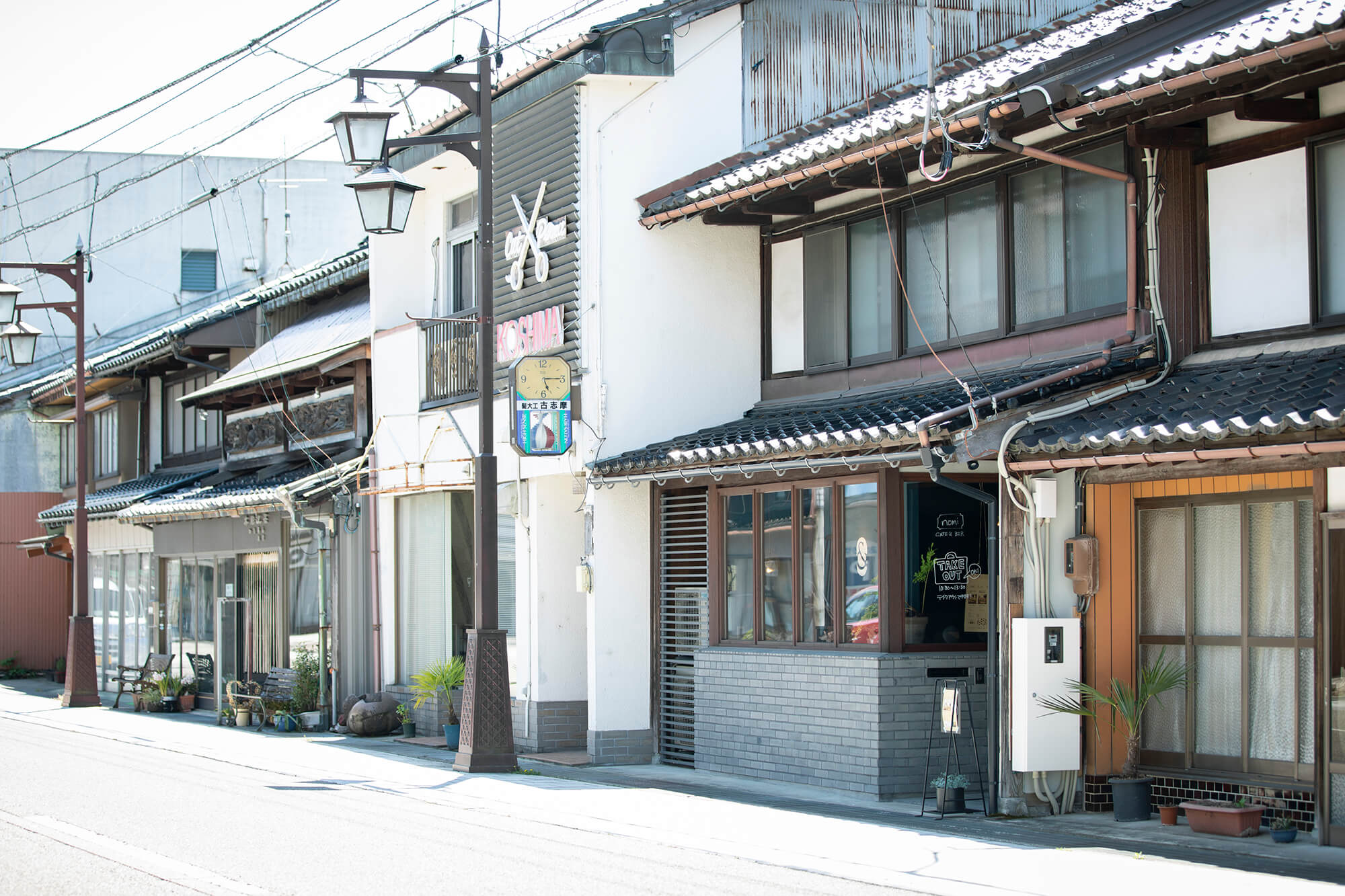 BnC Lounge, where the roundtable discussion took place.
(Continue to Part 2.)
1Masashi Nishide
Architect, representative of WE Architect Office, representative of Branch LLC and part-time lecturer at the Department of Architecture of Kanazawa Institute of Science and Technology.
Born in Chiba Prefecture in 1987, raised in Ishikawa Prefecture. After traveling in many countries, established his architectural design office: WE Architect Office. Mainly designs stores and cafes such as Hammock Cafe Amaca, and houses. In 2019, his strong interest in plants made him open a strange plant shop, Ashitaba, run by Branch LLC in Komatsu City, Ishikawa Prefecture.

2Hiroyuki Akashi
Community design producer, representative of Green Note Label Inc., Ltd., representative of Comsyoku Inc., owner of Cafe Uchikawa Rokkakudo and Waterside Private House Hotel.
In 1971, born in Onomichi City, Hiroshima Prefecture. Studied product design at Tama Art University; after graduation joined a town development consulting company. In 2010, moved to Toyama Prefecture, where his wife was from. With experience producing a cafe that successfully expanded the value of a fishing town, engages in renovating old folk houses, space design and town development.

3 Tomotsugu Yamakawa
Architect
Born in Toyama Prefecture. After graduating from the Department of Architecture, Faculty of Science and Technology, Meiji University, joined Plantech Architects. After studying abroad in Canada, moved to Shanghai in 2009. As chief designer had been involved in designing many public and commercial buildings. In 2011, established Tomo Yamakawa Design in Shanghai, and then Corare Artisan Japan Inc. in 2017 to create brand-new value with Japanese craftspeople. Also a creative director by producing accommodation facilities, Bed and Craft, where guests can be apprentices of craftspeople.

4 Satsuki Yamakawa
Born in Hyogo Prefecture. After finishing the Master's Program in Architecture, Kanazawa Institute of Technology, joined Plantech Architects. In 2009, moved to Shanghai and started designing commercial buildings. In 2011, co-founded Tomo Yamakawa Design with Tomotsugu Yamakawa. After co-founding Corare Artisan Japan Inc. with Tomotsugu Yamakawa, renovates old houses with oriental design coming from her practice in Shanghai.

5The population of the Inami area of Nanto City, where Tomotsugu and Satsuki Yamakawa live is only about 8,000. A railway used to run but is now defunct. Public transportation is only local buses.

6The brand concept is an inn where guests can be apprentices of local craftspeople. Many abandoned houses have been renovated to be inns and hotels.

7Cafe Uchikawa Rokkakudo, which Mr. Akashi created in the Shinminato area of Imizu City, Toyama. More than twenty thousand visitors flock to the cafe each year.